November 22, 2019
The following resources have been developed to help support your patients living with chronic immune thrombocytopenia (ITP) get the most from their treatment with REVOLADE®.   
---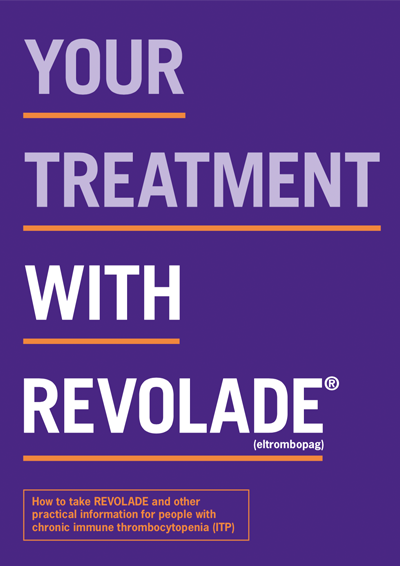 Your Treatment with REVOLADE® - Patient Booklet
A practical guide for your patients to help them better understand how their treatment works. Topics include:
What is chronic ITP?
What is REVOLADE®?
How the treatment works
Side effects
Other practical patient information
PBS Information: This product is listed on the PBS as a Section 100 item for the treatment of patients with severe chronic idiopathic (immune) thrombocytopenic purpura who meet certain conditions. Refer to PBS Schedule for full authority information. This product is not listed on the PBS for the treatment of chronic idiopathic thrombocytopenic purpura in children, severe aplastic anaemia, or thrombocytopenia associated with hepatitis C.
PLEASE REVIEW PRODUCT INFORMATION BEFORE PRESCRIBING. FOR THE MOST UP TO DATE PRODUCT INFORMATION CLICK HERE.