August 7, 2020

Agenda: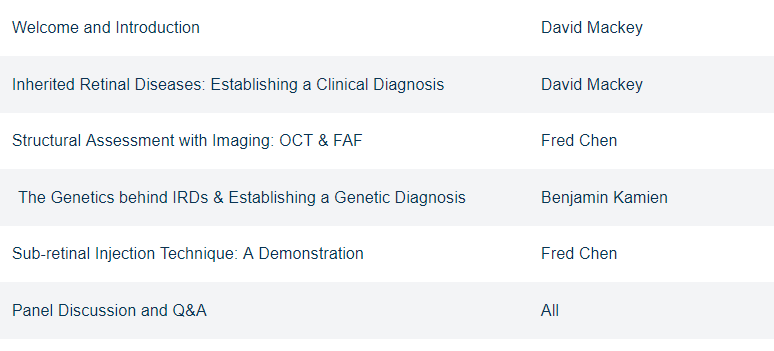 Speaker Details:

Professor David Mackey
AO MBBS MD FRANZCO FRACS FAHMS
NHMRC Practitioner Fellow, Faculty of Health and Medical Sciences, Centre for Ophthalmology and Visual Science, University of Western Australia, Perth, WA
Professor David Mackey was Managing Director of the Lions Eye Institute in Perth from 2009-2019. He is a councillor of the Royal Australian and New Zealand College of Ophthalmologists and chair of the RANZCO Professors group. He is the current RANZCO representative on the Council of the Asia Pacific Academy of Ophthalmology. He is the Western Australian branch chair and national councillor of the Australian Academy of Health and Medical Sciences. He is past president of the International Society for Genetic Eye Disease and Retinoblastoma. He is a member of the American Academy of Ophthalmology's Basic and Clinical Science Course sub-committee since 2011 and re-wrote the chapters on genetics. Prof Mackey is a renowned international researcher in the genetics of eye disease having published over 400 peer-reviewed papers since 1989. He is the world's most published author in glaucoma genetics and is a lead investigator in the International Glaucoma Genetics Consortium (IGGC) and the Consortium for Refractive Error and Myopia (CREAM). In 1993 Professor Mackey initiated the Glaucoma Inheritance Study in Tasmania (GIST) enrolling over 5,000 familial and sporadic cases of glaucoma. His research has extended beyond the laboratory to cascade genetic screening for at-risk individuals. His group has examined the impact of providing DNA testing and results to glaucoma families and is currently working on models of cascade family screening for glaucoma.
---

Dr Fred Chen
MBBS, PhD, FRANZCO
MRFF Career Development Fellow, Faculty of Health and Medical Sciences, Centre for Ophthalmology and Visual Science, University of Western Australia, Perth, WA
Ophthalmology Consultant, Lions Eye Institute and Royal Perth Hospital, Perth, WA
Dr Fred Chen studied medicine at UWA. After completion of ophthalmology training at Royal Perth Hospital in 2006, he moved to London for advanced training in medical and surgical retina at Moorfields Eye Hospital. He also completed a Doctorate of Philosophy (PhD) in surgical techniques of retinal pigment epithelium transplantation for treatment of dry and wet macular degenerations at the University College of London Institute of Ophthalmology. Dr Chen returned to Perth in 2010 as a senior lecturer at the UWA Centre for Ophthalmology and Visual Science. His research focuses on testing of new treatments in dry age-related macular degeneration, monitoring of inherited retinal disease progression and application of stem cells in the development of personalised medicine for rare retinal diseases. His research group is funded by philanthropic donations, NHMRC grants, Macular Disease Foundation, McCusker Foundation, Retina Australia and Telethon Kids Institute. He has over 140 publications and he has been a principal investigator in over 10 clinical trials. He consults and operates at the LEI, Royal Perth Hospital and Perth Children's Hospital. His special clinical interest is in macular degenerations and inherited retinal diseases
---

Dr Benjamin Kamien
MBBS, FRACP
Clinical Geneticist at Genetic Services of Western Australia, Faculty of Health and Medical Sciences, Paediatrics, The University of Western Australia, Perth, WA
Dr Benjamin Kamien obtained his medical degree from the University of Western Australia. He trained in paediatrics at Princess Margaret Hospital and in clinical genetics in Queensland and New South Wales and he is a fellow of the Royal Australasian College of Physicians. His interests within clinical genetics practice include reproductive genetics, preconception genetic testing, dysmorphology, and overgrowth conditions. 
2020 Registered trademark of Novartis Pharmaceutical Australia Pty Ltd. 54 Waterloo Road, Macquarie Park, NSW 2113. ABN 18 004 224 160. AU-13320. Date of preparation: August 2020. HNOV217.